UPDATE (26/1/2020): I have given up (since last year) on Alexa on my Sonos Ones and just used Google Assistant, since it is so much easier to activate. More than that, though, I've been using Siri on my Homepod Mini to Airplay them to my Sonos Ones.
UPDATE (18/12/2018): I haven't had to set up any new Sonos Oneses so I don't know if any of the steps below are still necessary! I do know that the Alexa app is still not available in my iPhone, though. I recently fired up the Alexa app in my old Android phone, and now I am able to do the following:
Set Spotify as the default music player (no need to specify "through Spotify" when asking Alexa to play a song or playlist).
Set up the speaker's location to Singapore, so I get proper weather reports
Add in frequently travelled routes to ask Alexa for traffic information
Change the units to metric, instead of imperial.
UPDATE (27/12/2017): Looks like Alexa and Spotify are now integrated! You'll need to use your Alexa app (I had to do this on my old Android phone) to set it up. Now, I can ask Alexa to play certain songs from Spotify [Alexa, play Love on the Weekend from Spotify] and it plays it on my Sonos One, and whatever was grouped with it. I can also ask Alexa to play "Chill Hits", a Spotify playlist I am following – but it won't recognize my words when I ask it to play "Weihan", a playlist I created. Time to change my playlist names. (more info)
I bought a Sonos One speaker knowing full well Alexa is not supported in Singapore, thinking – let's just give it a try. I've read a bit on forums by some Singaporeans saying they got Alexa working on their Sonoses, so I thought, if they can, so can I!
Unfortunately, most of the threads say they did it, without saying how. Time to find out myself.
I plugged everything in, fired up the Sonos app on my iPhone, updated to the latest version, and saw the "Voice Services" option under "More" on the bottom right. Tapped on that and got this: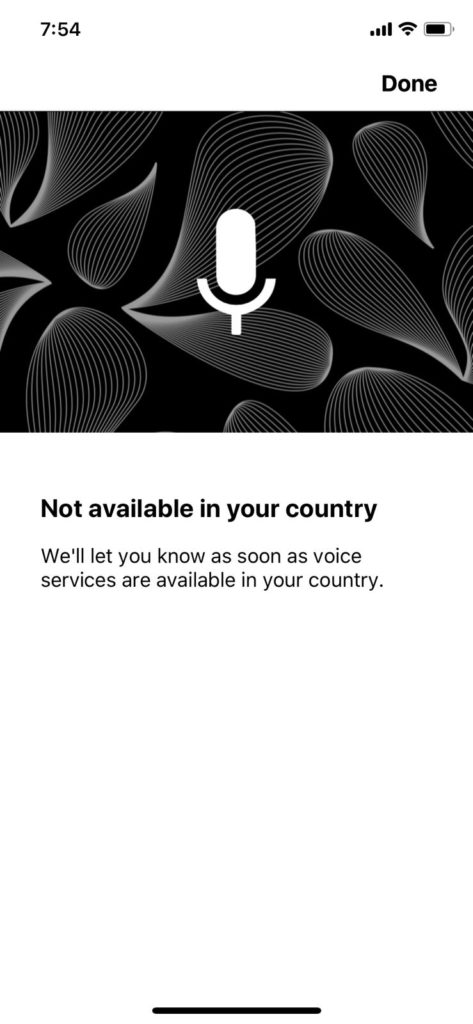 Ah, perhaps not so simple after all.
After a few hours of Googling, reading, and restrained frustration, I've finally set up my new Sonos One speakers and got Alexa working on it. Here's a short guide to help you if you're one of us Singaporeans who's not thrilled about spending more money on Alexa but having it not working.
Before we begin, here are some notes
The Sonos One is a new speaker from Sonos, which sounds the same, and looks a lot like the older Sonos Play:1. Only the Sonos One has Alexa integration.
You can control, with your voice and Alexa, your whole home Sonos system using just one unit of the Sonos One. Of course, you have to be within earshot (microphoneshot?)
Alexa is not supported in Singapore. Probably will be in the near future.
Spotify is not supported by Alexa with the Sonos One now. I think.
Step 1: Changing your Sonos country
Go to your Sonos app, go to settings, go to Account, and change your country. It should be Singapore. Change it to USA. Seems like a fuss-free change without any long term implications.
Step 2: Creating your Amazon account and setting up Alexa in Amazon
Go to alexa.amazon.com and login with your Amazon account. If you don't have an account, you got to set one up.
Once in, find the Sonos Skill, then activate it. Follow the instructions to link your Sonos account to Alexa.
For the record, I have an existing amazon account and it's set to Singapore. I did not change the country.
Step 3: Setting the link between the Sonos app and Alexa
Go back to your Sonos app on your phone. Go to More at the bottom right and tap on "Voice Services". If everything went well, there will be a set of instructions to complete the link.
Step 4: Alexa app
At this point you should have been able to briefly talk to Alexa for a few moments. But Step 3 of the Sonos Alexa link is for you to download the Alexa app on your device. If you don't, you can't complete it. Now here's a problem, because the Alexa app isn't available in Singapore for both Google Play store (Android) and iTunes store (iPhone). Only available in USA and some other countries.
I tried using this guide to install USA apps on your phone, but it didn't work for me. Apple kept flagging my newly created dummy accounts as suspicious and required that I contact support. Bummer. However, it seems quite a few people managed to make it work. Maybe it will for you.
I whipped out my old Android phone (should also work with a tablet), and installed the Sonos app on it. Then I connected the Sonos app on the Android phone to my Sonos system. Then I downloaded the Alexa apk from this link (NOTE: I have no idea whether this is safe and whether it will compromise your device or data. CLICK THE LINK AT YOUR OWN RISK). It seemed legit and so far had no problems on my phone. Then installed the app using the APK.
Time to start over with Step 3, this time using my android phone instead of my iPhone.
Step 4: Profit
I was able to complete all 4 steps using my Android phone and Alexa is now working. Things I was able to do:
Ask Alexa to pause Living Room
Ask Alexa to mute (only the Sonos One mutes, the other speakers play normally)
Get a funny response when I say "Alexa, good morning"
Ask Alexa for the weather, in which she told me it was 77 degrees in Seattle
I didn't have time to figure out how to change the location back to Singapore instead of Seattle. Nor Fahrenheit to Celsius.
I asked her to play from Spotify, but she told me straight up that Spotify was not supported. Supposed to change soon.
Hope this was helpful!