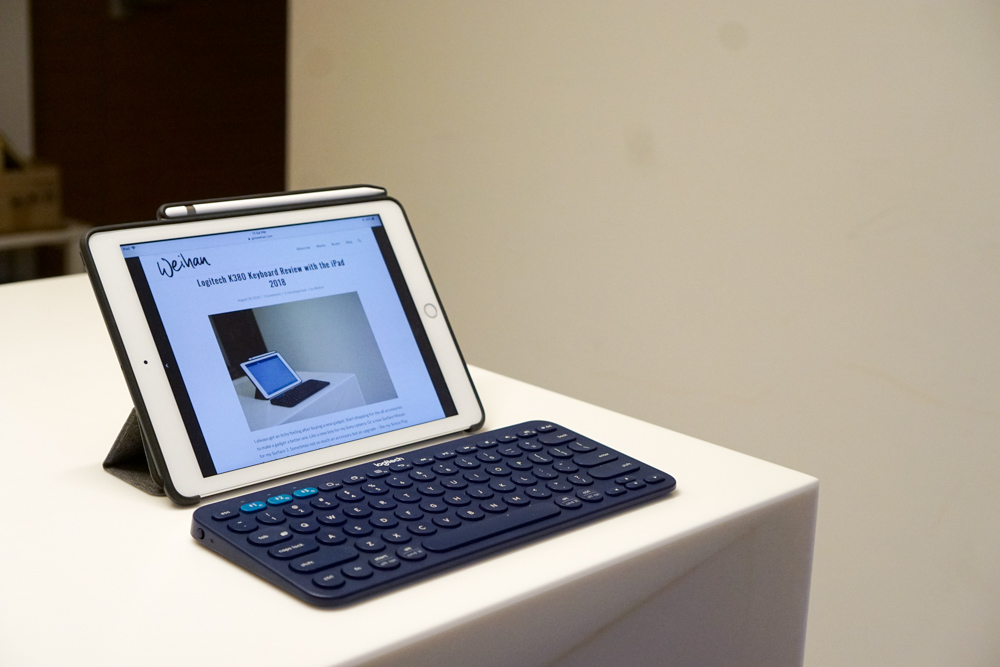 I always get an itchy feeling after buying a new gadget. Start shopping for the all accessories to make a gadget a better one. Like a new lens for my Sony camera. Or a new Surface Mouse for my Surface 3. Sometimes not so much an accessory but an upgrade – like my Sonos Play 5 and a Sonos One after getting a Sonos Play 1.
This time, it's my iPad. I bought the new iPad, sometimes also known as the iPad 9.7" 2018, or the 6th Generation iPad, or the 2018 non-pro 9.7" iPad. It supports the Apple Pencil and I wanted to use it for taking notes at work. Also, I imagined it to be nice to have around.
My last iPad was the very first one, so I was really surprised at all the things the new iPad could do. There's Procreate for drawing stuff and Lightroom for editing photos, and most impressively LumaFusion for editing videos (which convinced me of the superiority of touchscreens over mouse/keyboard for video editing). And I started to wonder if it could really replace a computer.
I bought the iPad together with the Apple Pencil, and didn't really think I would ever use a keyboard with an iPad. After a few days of usage, I decided I would get a keyboard after all and see how it works out. And so my product hunt started…
iPad Keyboards
In my understanding, the iPad Pros have some smart connector thing that a keyboard can use for connection. My plain ol' iPad can only use a Bluetooth keyboard. Doesn't sound like a problem to me.
I checked around online and there's quite a range of Bluetooth keyboards, including iPad cases with integrated keyboards as cheap as SGD 30. I wanted it to be separate, though, as I imagined I wouldn't be using a keyboard all the time. So I came across the Logitech K380, which sounds perfect for my needs, except that it's pretty pricey (got it around $48 before a Lazada National day discount; RRP is $54). Still, I picked it because:
It's a Logitech. I've been using Logitech mice and keyboards for more than 10 years and I really like them.
It has the multi-device switch feature that allows you to change which device the keyboard connects to. My Logitech MX Anywhere mouse has this same feature and I find it immensely useful with all my different devices.
It looks cute!
I bought the keyboard online without seeing it physically nor trying the keys out before.
There's also a K480 available for ten bucks more, and from what I see the only difference is a slot on the keyboard where you can stand your iPad and iPhone. I didn't see a need for that, plus it would make the keyboard larger. Nah.
Logitech K380 with the iPad
First things first. The K380 is slightly wider than the iPad. I imagine some people may be put off by that. Part of the reason of writing this review at all is because I couldn't find any photos online of how the iPad 2018 looks like with the keyboard. Here you go: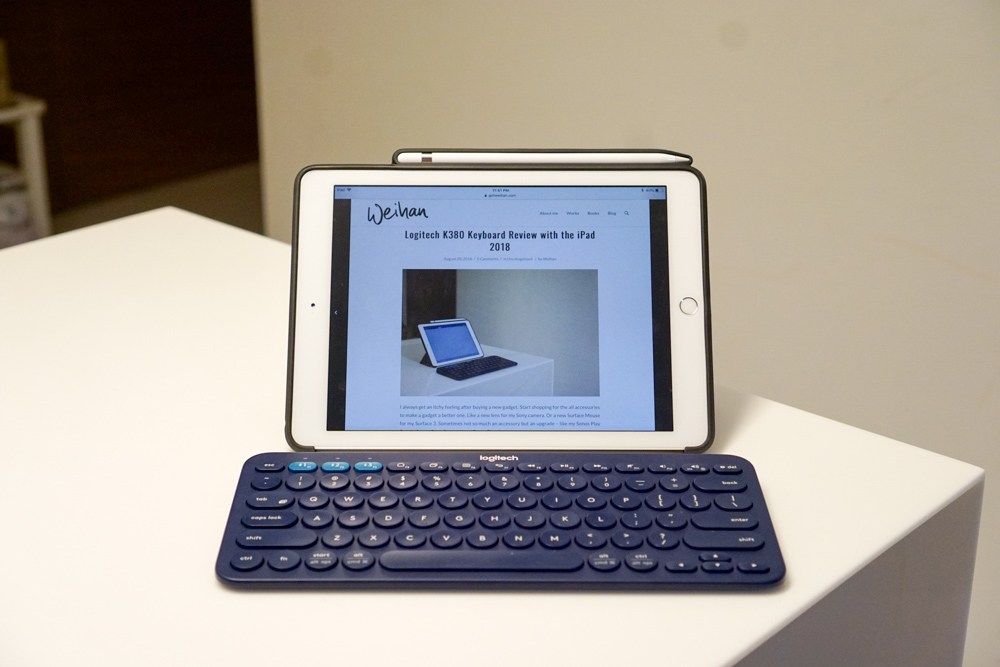 Personally, I find the size comfortable. The width of the keys is the same as my other Logitech keyboard, the confusingly named (in this review, that is) Logitech K830. The K830 has a trackpad, so the total size is bigger, but the keyboard width is almost identical.
In fact, the whole key layout is the same.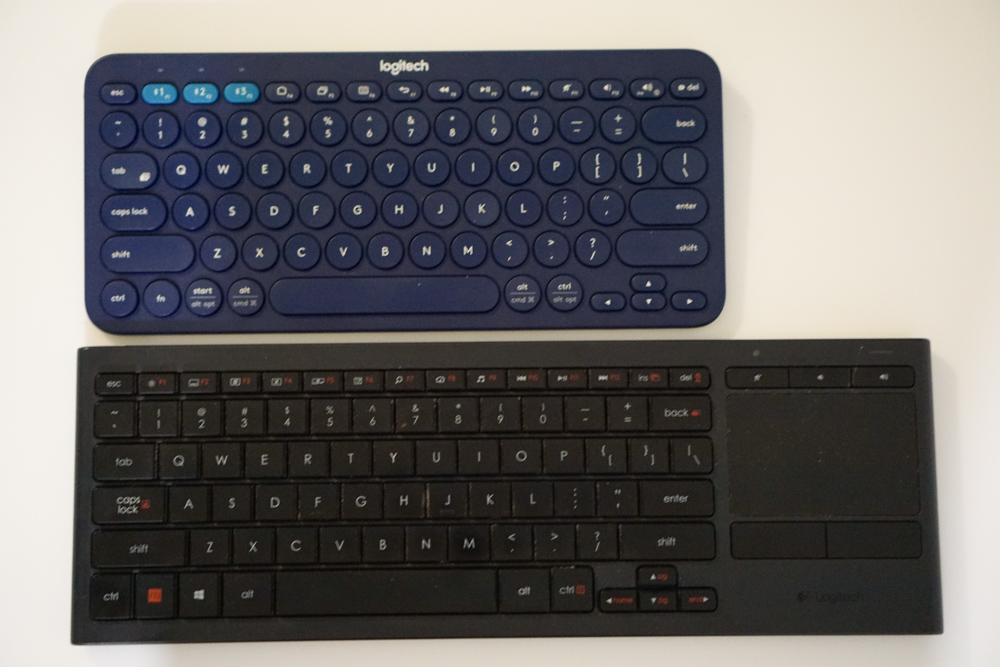 Let me say it out right now the I love the longer K830 keyboard. I've used it for two years, mostly on my lap, and, despite its small size, it's one of the best keyboards I've ever used.
This K380 keyboard? Not so much.
Logitech K380 Keys
Now the big question, why? If the size and layout of the keys of the K380 and the K830 is identical, shouldn't I like it just the same?
The problem? Circles.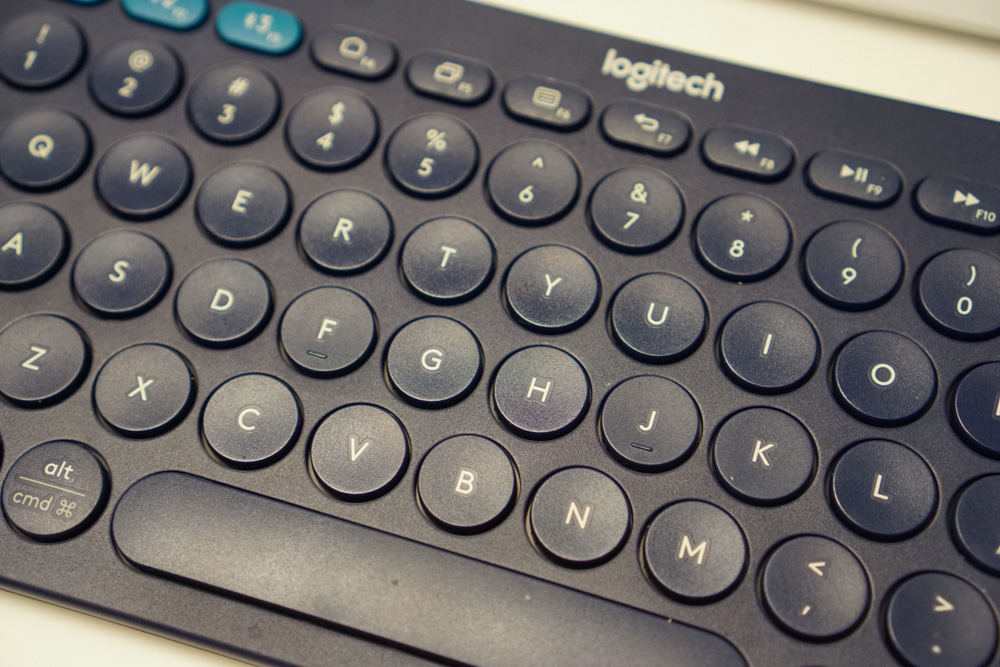 I guess they had their reasons for making the keys circles, instead of squares. This is my first keyboard using round keys. I don't get it.
The area of a circle is smaller than the area of a square of the same length/diameter. Smaller, in fact, by 21%. The exact ratio is pi divided by 4.
This means that the K380's circle keys are somewhat harder to strike than if they were square.
But – you may think – you don't need 100% of that space anyway. You're so good at typing you only hit that middle 50% area, so it wouldn't matter.
I thought the same too, but in reality there's a big difference in typing. My typing accuracy drops, and I seem to need more conscious effort in finding keys while touch-typing than before. My first impression was really negative, but I thought I could get used to it in time. I did get better after a few days, as you probably will, but it still really isn't optimal.
Logitech, why didn't you use square keys?!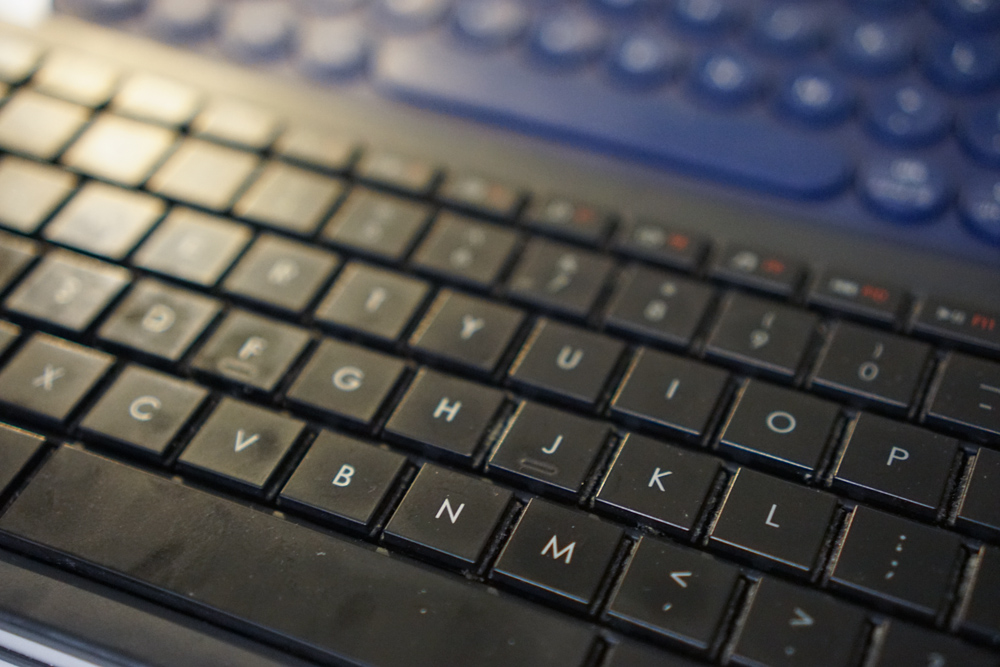 Additionally, the key travel of the K380 is slightly shallower, meaning it doesn't depress that fully as a normal sized keyboard or even the K830. It also feels like it requires more force to push down on each key. I prefer the feel of the keys on the K830 by far.
Logitech K380 Noise and Clacking
One thing I've found is that the K380 is really quiet. Much quieter than most of the keyboards I've owned.
Logitech K380 build quality and construction
This keyboard seems pretty well-built. It feels sturdy for sure, and I don't think it'll break into two if you dump it in a backpack.
You'll see in the photos above that there's a big difference in build quality of the K380 and the K830. The K380 is with a matte finish and built like a tank. The K830 is polished and beautiful and intricate. You wouldn't dump that one in a bag for sure.
In this way, I think both keyboards fit their respective purposes well.
Other features
The most important other feature to me is the Easy Switch feature. There are 3 lighter blue buttons at the top left in the F1 to F3 keys – press any of these keys to switch to the corresponding device you have set up previously.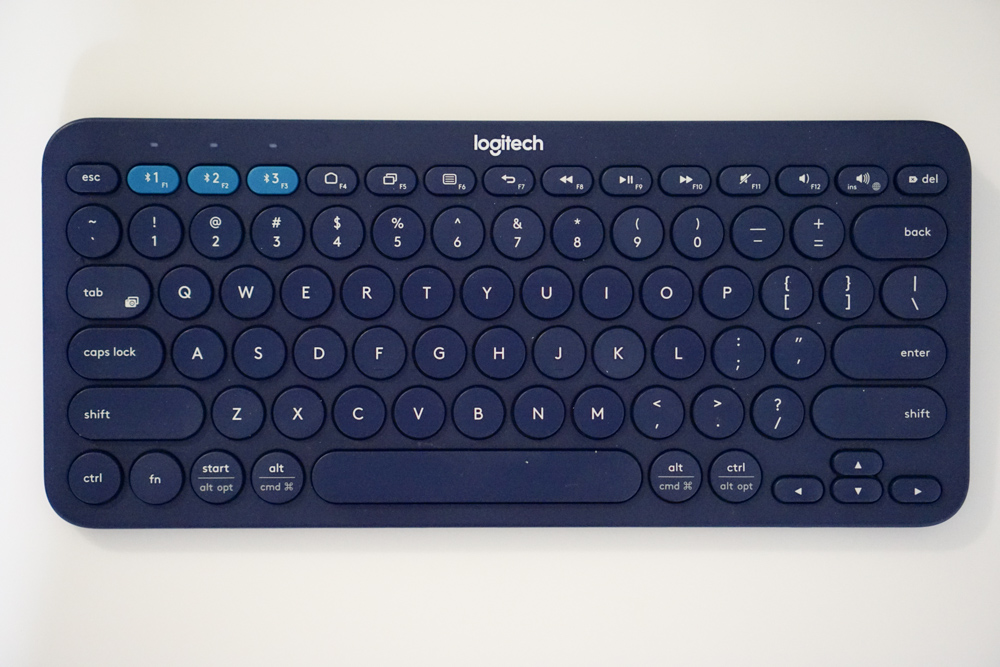 So, the first time you whip out your keyboard to set it up, you'd long-press the Bluetooth 1 or F1 button. That gets the keyboard in pairing mode. Use your iPad's Bluetooth settings to add the device, and voila, your iPad is number 1.
Then, long-press the Bluetooth 2 to get the keyboard in pairing mode, and pair it with your iPhone, for example.
Then do the same for Bluetooth 3 for your Windows PC.
Now, when you want to use the keyboard with your iPad, just hit the Bluetooth 1 button. Not a long-press; no more pairing. It takes maybe 3 seconds for the Bluetooth connection to establish, and you can start banging away. It's really convenient if you'd like to use the keyboard for a bunch of devices.
A Note on Pairing with Windows 10
I met a small problem when pairing with my PC running Windows 10. It asked me to enter a six digit code to pair. What year is it?!
I thought it was a joke, so I just pressed enter. Didn't work. I restarted my bluetooth and tried again – same problem. Then I thought, oh wait, it's a keyboard. Let me press the numbers on the keyboard (even though you won't get any feedback), maybe that'll work. It didn't.
What finally worked was pressing backspace a few times before entering the numbers on the keyboard, then pressing enter. This post helped; in particular, this comment:
I was having this same problem. I found if I pressed the backspace key around 800 times then typed the pin, then pressed enter, it worked. Good luck. Logitech you **** a little.
Batteries and Battery life
It uses 2 AAA batteries, thoughtfully included in the box. They say it has a 2 year battery life. I've owned the keyboard for a week and happy to report that no battery changes have been needed.
Logitech K380 portability with an iPad
Here are some photos that compares the keyboard with an iPad in its case.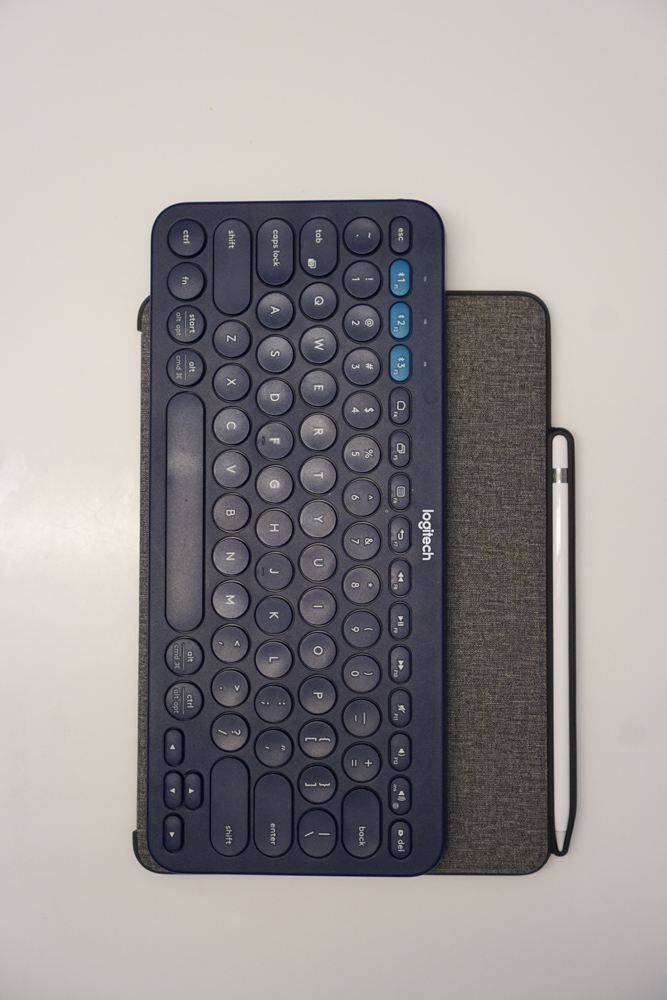 As you can see, the Logitech keyboard is significantly longer than the iPad. It's also much thicker than an iPad, and probably only slightly thicker than your iPad with a case.
According to the Logitech website, the weight of the keyboard is 423g including batteries. The 2018 iPad is 478g, so it'll be like carrying 2 iPads. Add in a case and a pencil, and I think we're talking about 1kg.
In contrast, the Microsoft Surface Go is 520g, and their keyboard case is 243g, adding up to 763g – significantly lighter than the iPad-K380 combination.
Still, 1kg is still lighter than most laptops.
If you're really looking for portability, you may be better off with one of those keyboard cases like the Logitech Folio Slim. But I bought this keyboard for a different purpose – I only intend to use the keyboard occasionally. I prefer my iPad light for the 80% of time I'm not going to use a keyboard with it. And on the days I'm going out with a mission to type, I could just chuck this keyboard into my bag.
Do you need a case?
I thought about getting a case to protect the keyboard when travelling. But it seems so hardy I think it may not be necessary. Then I realized that the box the keyboard comes in makes the perfect case.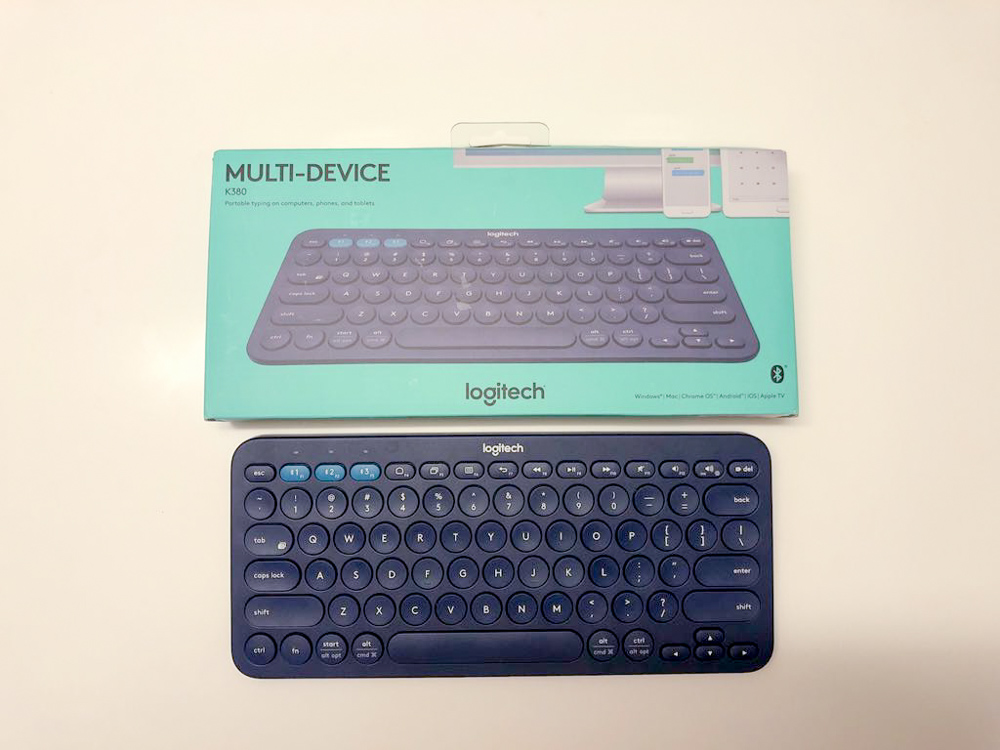 The Logitech K380 Review: A Conclusion
I really wanted to like this keyboard, and I'm trying very hard to like it, but I can't get over the round keys. It just seems like such a poor choice that I can't forgive it. It's not actually that big of a problem, it slows my typing down by maybe 3 to 8% (don't ask me how I got these figures), and that number will probably become 0 after a few more days of use. Still, why?!
That aside, it's a great, nifty, well-built little keyboard in a perfect size that should be a good complement to your iPad. Shouldn't be a problem throwing this into a bag together with your iPad for your business trip to reply to emails and write some simple reports.
Big bonus points for the easy switch feature.
The iPad and the Keyboard
Does having a keyboard make the iPad a computer replacement? Can buying a K380 + iPad combination make your PC redundant? So far, for me at least, the answer is no.
It's great if you want to churn out words and words, like replying emails, or writing a novel or a wordy blog post. I wrote this entire blog post with the K380 keyboard. I started writing this blog post using my iPad, but halfway through, I gave up and finished up with my Windows PC (still using the K380). I needed to add and edit photos, and add formatting, and the iPad just isn't a great way of doing all that. Also, I'm using WordPress and Safari wasn't really playing that well with it.
I think it could be good if you could bear just typing out all the words first, on a word document or OneNote, and then leave the formatting and photos for later.
The lack of mouse support also makes it hard for me to use it for other Word documents or for Excel. For example, highlighting text to make it bold is a chore.
Still, sometimes you should compare the iPad onscreen keyboard vs a proper physical keyboard. And the difference here, naturally, is night and day.
While I'm not throwing my PC away, suddenly I find another realm of possibilities with my iPad. On the day I retire and go for a month-long vacation to a beach resort to write my new novel, I could plausibly do it by bringing only an iPad and my Logitech keyboard. Looking forward to that.